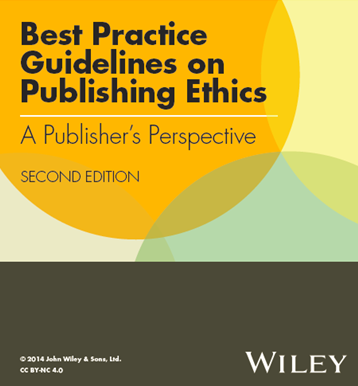 In 2006, John Wiley & Sons, a leading global publisher, was the first to publish an online manual of best practices in ethical publishing which provided a point of reference for journal publishers and learned societies.
This company which has been offering services in the information and education field for more than 200 years is a member of the COPE Ethics Committee, takes part in the publication of the journals produced by more than 800 prestigious learned societies and is in the front line in defending ethical standards in publishing. Wiley has now reaffirmed its commitment to defend and promote ethical publishing with the launch of the second edition of its manual: "Best Practice Guidelines on Publishing Ethics: A Publisher's Perspective, 2ed., 2014"¹.
This publication is an updated version of the previous manual, which is considered to be the benchmark for the ethical issues which crop up in academic publications for not only editors, authors and researchers but also for the public at large.
It is important to emphasize that this manual was published in Open Access under Creative Commons License CC-BY-NC4.0. It can be freely downloaded from the following.
In just over 50 pages, the manual pulls together information culled from various sources arranged under the following chapters :
Introduction
First: Speak with your publisher
Research integrity
Research ethics in journal articles
Editorial standards and processes
Copyright and intellectual property
Resources for responsible publication policies and procedures
Flowcharts COPE
Sample letters
These chapters cover important aspects such as falsification and manipulation of data and images, plagiarism, duplicate and redundant publications, retractions, issues of privacy and confidentiality, and all other issues that are sources of controversy for editors and whose resolution is of necessity based on codes of ethics.
Important topics have been added to this new edition, such as guidance on how to deal with third party accusations, research using animals, biosecurity, clinical research and, in particular, that which is related to records of clinical trials. Also included is guidance to best practices in new areas currently in vogue such as human rights, confidentiality and respect for cultural differences.
Chapter 8, "Flowcharts COPE", reproduces the famous diagrams of the Committee on Publication Ethics (COPE), such as:
What must be done if it is suspected that the paper is a duplicate of another publication;
What must be done if plagiarism is suspected in a submitted paper;
What must be done if the correspondence author requests to be removed as an author prior to publication.
This updated edition has benefited from the collaboration of 30 editors from multidisciplinary fields and ethics experts which represent the diverse communities around the world. Found at the end of the handbook are the names of the committee of experts that was consulted.
Finally, Chapter 9 presents a dozen sample letters for editors on addressing issues such as changes in or the removal of authors, conflicts of interest, data and image manipulation, and so on.
The publication "Best practice guidelines on publishing ethics: A publisher's perspective. Second edition. John Wiley & Sons, Ltd. 2014 CC-BY-NC 4.0" is also supported by various participatory blogs of which we recommend the following:
Our top 10 tips for navigating ethical challenges in scholarly publishing
http://exchanges.wiley.com/blog/2014/03/12/our-top-10-tips-for-navigating-ethical-challenges-in-scholarly-publishing/
Publication ethics: the editorial office perspective
http://exchanges.wiley.com/blog/2014/02/24/publication-ethics-the-editorial-office-perspective/
Publication ethics: a journal editor's perspective
http://exchanges.wiley.com/blog/2014/03/10/publication-ethics-a-journal-editors-perspective/
Note
¹ Manual Best Practice Guidelines on Publishing Ethics: A Publisher's Perspective – http://exchanges.wiley.com/medialibrary/2014/03/12/19049c7c/Best%20Practice%20Guidelines%20on%20Publishing%20Ethics%202%20Ed.pdf
External links
Wiley – http://www.wiley.com
COPE – http://publicationethics.org/
About Ernesto Spinak
Collaborator on the SciELO program, a Systems Engineer with a Bachelor's degree in Library Science, and a Diploma of Advanced Studies from the Universitat Oberta de Catalunya (Barcelona, Spain) and a Master's in "Sociedad de la Información" (Information Society) from the same university. Currently has a consulting company that provides services in information projects  to 14 government institutions and universities in Uruguay.
Translated from the original in Spanish by Nicholas Cop Consulting.
Como citar este post [ISO 690/2010]:
SPINAK, E. Ethical publishing – Best practices in ethical publishing – Wiley updates its renowned manual and makes it available in Open Access [online]. SciELO in Perspective, 2014 [viewed ]. Available from: https://blog.scielo.org/en/2014/04/15/ethical-publishing-best-practices-in-ethical-publishing-wiley-updates-its-renowned-manual-and-makes-it-available-in-open-access/