Só um desejo de nitidez ampara o mundo…
Faz sol. Fez chuva. E a ventania
Esparrama os trombones das nuvens no azul.¹
 (Mário de Andrade in Momento, 1937)
A Barca is a wonderful musical group which has been chosen to open the SciELO 15 Years Conference. Formed by friends – Ari Colares (percussion), Chico Saraiva (violin), Laeticia Madsen (vocals), Lincoln Antonio (piano and fife) and Marcelo Pretto (vocals) – the group seeks to deal with the themes of travel, culture and popular music and music of Brazil, using the poet Mário de Andrade as their inspiration (1893-1945)². In A Barca's work, there is more than just music and poetry as elements in common. There is the idea of passage, of restlessness and of the desire to bring together the riches from a living treasure, riches which are the many artists spread around the country.
A Barca started putting on performances in 1998, bringing from that period into their performances the hallmarks of exploration and movement, as well as of encounters and of creativity.
It can be said that the first adventure undertaken by this group took place in 1999, when they hit the road… in search of  knowledge experienced in the squares, on the streets and at popular festivals…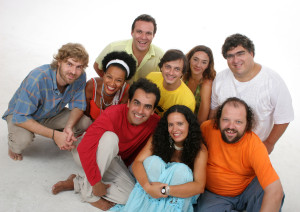 A Barca started out by visiting a number of cities in the States of Pará and Maranhão. In all, seven inspiring cities for a project which was growing all the time.
Many artists became part of the enterprise. They helped with their songs and dances in the unfolding of a journey rich in events discoveries.
Enchantment and beauty would create little by little a great display of what Brazil actually is. Music and poetry. Incidentally, Mário de Andrade would continue to be their point of reference in this aspect, that of promoting possible cultural dialogues, meetings between so many artists from Brazil…. viola players, fiddle players and percussionists, singers of many songs, dancers of all ages and types – women, men and children.
From then, the certification by passing the Carimbó do Santarém Novo in the state of Pará, at the Tenda São José in Pirapemas in the state of Maranhão, and even at the Casa Fanti-Ashanti in São Luís.
But it was simply the beginning of something that was to grow even more…
In 2000, A Barca released its first CD, with the title that carried the same name as one of the books of the famous Brazilian poet Mário de Andrade: O Turista Aprendiz (The Tourist Apprentice). After two years, the group released another CD in partnership with Casa Fanti-Ashanti, titled Baião³ of the Princesses (Baião de Princesas).
And the ever expanding repertory was of the tradition of popular culture in its pattern of interactive communication in time. The music of diverse voices that gives life, and even more…
The rhythm became livelier, creating substance with the expansion of this dialogue between different cultures which, in turn, was motivated by the artists of A Barca themselves, and by so many others that were exploring this unique space.
More than ten thousand kilometers were covered by the group A Barca in an enriching  endeavor quite consistent with musicality and interaction. A Barca also began visiting quilombos (hideouts for runaway slaves), indigenous villages, outlying neighborhoods, and riverside, backcountry and coastal towns. And from there resulted these recordings, totaling three hundred hours of audio and video, along with six thousand photos.
It was from 2006 that the group came to release a collection of three CD's and a DVD: Track, Melody and Troupe (Trilha, Toada e Trupé ). The following year, there was another release by the group, this time of seven CD's plus a set of documentaries, in a short film, bringing with it a whole repertoire of lively Brazilian culture.
Between 2007 and 2008, A Barca wound up the project Trilhas with the financial support from PAC⁴ and Votorantim company. Thus was born the plan for the trip which on this occasion  would head towards the states of Minas Gerais, São Paulo, Paraná and Rio Grande do Sul.
A Barca was winning over the public, and at the same time creating a true unforgettable poetic record:  lots of sound, lots of singing and corps, in colorful poetry and popular music, meeting in this conviviality between artists that are more than just players of instruments but who are players of the heart who know very well how to appreciate art in its various modes of expression.
Notes
¹ Translation:
"Only a desire for clarity sustains the world……
It is sunny. It rained. And the wind
Spreads trombones of clouds in blue".
² Mário de Andrade – fotógrafo e turista aprendiz. Instituto de Estudos Brasileiros. São Paulo, USP, 1993.
³ Baião is a rural music and is also the dance which is danced to baião music.
⁴ PAC (Programa de Aceleração do Crescimento): a Brazilian Government's financial policy for development.
Related links
Barca – http://barca.com.br/
Translated from the original in Portuguese by Nicholas Cop Consulting.
Como citar este post [ISO 690/2010]:
SCIENTIFIC ELECTRONIC LIBRARY ONLINE. To the sound of music and brazilian poetry: A Barca, an unforgettable poetic record [online]. SciELO in Perspective, 2013 [viewed ]. Available from: https://blog.scielo.org/en/2013/09/30/to-the-sound-of-music-and-brazilian-poetry-a-barca-an-unforgettable-poetic-record/