By Jan Velterop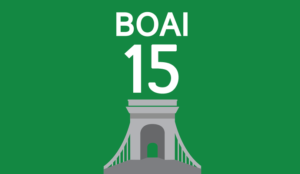 I expect most of the readers of this 'SciELO in Perspective' blog to be supporters of the idea of open access. In fact, SciELO was already engaged in open access 'avant la lettre', since 1998, before the term open access was generally used. I also assume that most readers will be familiar with the Budapest Open Access Initiative (BOAI), the initiative taken by a group of people from different countries and with diverse backgrounds, who had in common a commitment to open access and to giving the concept a proper definition and implementation strategies. In this way they aimed to accelerate progress in the international effort to make research articles in all academic fields freely available on the Internet. The initial BOAI meeting took place exactly 15 years ago, in December of 2001. The Initiative was published on the 14th of February, 2002.
The participants represented many points of view, academic disciplines, initiatives and nations, and together they discussed and examined effective and affordable strategies for serving the interests of research, researchers, and the institutions and societies that support research. They committed to working together to achieve broader, deeper, and faster success and launched a worldwide campaign for providing open access to all peer-reviewed research.
In February 2017 the BOAI will celebrate its 15th Anniversary of serving as the standard-bearer and source of the widely accepted definition of open access. Should you need a reminder, the group defined open access as follows:
By "Open Access" to this [research] literature, we mean its free availability on the public internet, permitting any users to read, download, copy, distribute, print, search, or link to the full texts of these articles, crawl them for indexing, pass them as data to software, or use them for any other lawful purpose, without financial, legal, or technical barriers other than those inseparable from gaining access to the internet itself. The only constraint on reproduction and distribution and the only role for copyright in this domain should be to give authors control over the integrity of their work and the right to be properly acknowledged and cited.
As we near this milestone, it is important to take the time to reflect on the values, impact, and continued relevance of the BOAI. Your contribution will help shape the movement going forwards. It is highly appreciated if you could take this opportunity to fill in the survey (see link below). Please note the deadline of 20 January 2017. The feedback you provide will be used to create updated recommendations to the open access community to help focus our collective efforts to sustain momentum towards achieving the goals of the BOAI.
Please provide your feedback to the survey which you can find here: http://budapestopenaccessinitiative.org/boai15-1
Many thanks in advance.
Merry Christmas and very best wishes for a Happy, Healthy, and Successful New Open Access Year!
External link
The Budapest Open Access Initiative (BOAI) – <http://www.budapestopenaccessinitiative.org/read>
About Jan Velterop
Jan Velterop (1949), marine geophysicist who became a science publisher in the mid-1970s. He started his publishing career at Elsevier in Amsterdam. in 1990 he became director of a Dutch newspaper, but returned to international science publishing in 1993 at Academic Press in London, where he developed the first country-wide deal that gave electronic access to all AP journals to all institutes of higher education in the United Kingdom (later known as the BigDeal). He next joined Nature as director, but moved quickly on to help get BioMed Central off the ground. He participated in the Budapest Open Access Initiative. In 2005 he joined Springer, based in the UK as Director of Open Access. In 2008 he left to help further develop semantic approaches to accelerate scientific discovery. He is an active advocate of BOAI-compliant open access and of the use of microattribution, the hallmark of so-called "nanopublications". He published several articles on both topics.
Como citar este post [ISO 690/2010]:
VELTEROP, J. The BOAI (Budapest Open Access Initiative) celebrates its 15 year anniversary [online]. SciELO in Perspective, 2016 [viewed ]. Available from: https://blog.scielo.org/en/2016/12/21/the-boai-budapest-open-access-initiative-celebrates-its-15-year-anniversary/