By the SciELO Team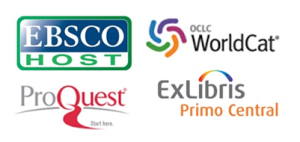 Research visibility and interoperability occupy a central role in the efforts SciELO develops to improve the performance of the journals and books it indexes and publishes. Starting 2016, in addition to the presence of SciELO in Google Scholar and selectively in the major journal bibliographic indexes, all SciELO journals and eBooks are fully indexed and discoverable via the world's major Discovery Services – EBSCO Discovery Service, Ex-Libris Primo Central, and the WorldCat Discovery Service – as seen in Table 1. At the time of the writing of this article the confirmation by Proquest of the indexing of all of SciELO in Proquest's SUMMON Discovery Service was still pending.
Table 1. Presence of SciELO journals and eBooks in the major discovery services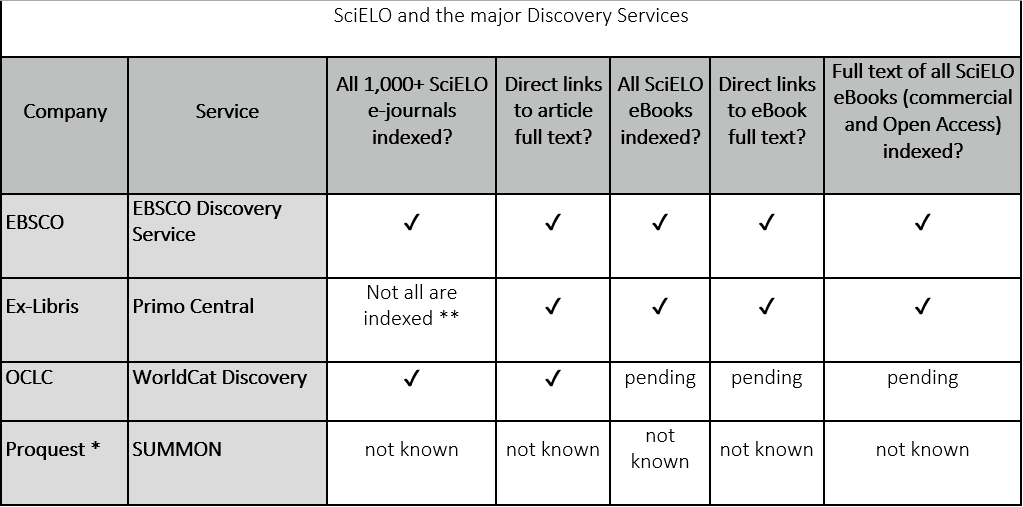 *Proquest was unable to confirm if it had fully indexed SciELO in its SUMMON Discovery service by the time of the writing of this article.
**Only SciELO Brazil, Chile, Spain, Mexico and Uruguay are indexed.
Discovery Services are used by many academic libraries, library networks and consortia around the world as their principal search interface to the resources they offer to their academic, research and student communities. These search interfaces focus on resources selected as relevant to the respective communities. They are more selective than Google, for example.
The last column of Table 1 is of particular importance. It indicates if the full text of a SciELO eBook, and not just the eBook title, is also indexed in the Discovery Service, thereby making it possible for the user to find an eBook by any of the words and concepts in its text, and not just in its title or other metadata.
How does this improve how you find information in SciELO?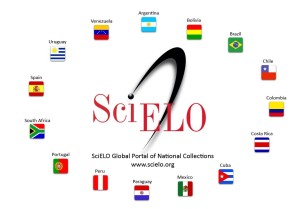 If a person knows where to find SciELO, he or she simply goes to the SciELO e-journal or eBook website to do a search there. To search the journals, the user would go to either SciELO.org or one of the national sites in the network such as www.scielo.br (Brazil), www.scielo.cl (Chile) or www.scielo.mx (Mexico) to name a few. There are a total of 15 national sites. SciELO.org is the portal which represents the aggregate of them all.
To search the eBooks, the user would simply go to books.scielo.org and begin the search.

But what if someone is searching for a topic, does not necessarily know about SciELO, or is not aware that there might be very relevant information in SciELO? In many academic libraries, the search interface presented to the user is one of the Discovery Service interfaces. Since SciELO is now included in these services1, the user will also get SciELO records in search results. While a search in Google will also find SciELO and other relevant records, they will be intermingled with many other records of sites that Google indexes – all of the Web – which will not necessarily be of academic interest, so the user has to pick through them to identify and select the relevant ones. This job of picking through records is inherent to the Discovery Service interfaces whose focus is on helping users by searching within the universe of recognized and relevant academic, research and educational content, and presenting a more refined set of search results.

The important point here is that users of Discovery Services do not have to know about SciELO to find information in SciELO that meets their search needs. This is a great benefit to the user, to SciELO, to the authors and to the research they publish in SciELO. This has the effect of increasing downloads of SciELO records overall, downloads to citation managers such as Mendeley, and mentions in social networks such as ResearchGate, Academia,edu, Twitter and Facebook to name a few, resulting in an overall increase in citations to SciELO articles which is undoubtedly a great benefit to authors and journals! It is all about visibility!
Some major academic institutions and library networks that are users of one of the four major Discovery Services are the CONRICYT national consortium (Mexico), the FCCN national consortium (Portugal) for its Online Knowledge Library, the CAPES national consortium (Brazil), Yonsei University (South Korea), University of Tokyo (Japan), Indonesia's digital library networking portal OneSearch (Indonesia), Princeton University (USA), University of California (Berkeley, USA), Harvard University (USA), Stanford University (USA), Centers for Disease Control and Prevention Library (USA), University of Toronto (Canada), University of Montreal (Canada), University of Cambridge (UK), Oxford University (UK), University College London (UK), the Catholic University of Chile (Chile), the Austrian Library Network (Austria), Université Paris (France), Leiden University Libraries (Netherlands) , and NEBIS (Network of Libraries and Information Centers) in Switzerland. This list was selected with some geographic diversity in mind. It is by no means exhaustive, nor is it a representative of major institutions. A full list of users can be found on each of the individual Discovery Service provider web sites.
How else can you find information in SciELO?
As described above, we see that the Discovery Services are interfaces that support finding recognized scholarly content available on the Web, with SciELO e-journals, articles and eBooks being examples of that content.
SciELO is also included in a number of directories and thematic indexes. While the Discovery Services include all SciELO records with the objective of supporting finding them, thematic indexes only include those records from SciELO which are relevant to the topic or subject area in question. For example, LILACS and PubMed include only article records indexed in SciELO in the area of health, while WoS and Scopus include only those article records published in journals that meet their citation criteria.
SCiELO journal and eBook titles are included in the DOAJ and the DOAB directories, respectively. The SciELO team provides a full update of all SciELO eBooks on a regular basis in the ONIX format to the DOAB. Since DOAJ itself automatically harvests the SciELO records rather that obtaining a regular update of records from SciELO, there is no guarantee that all the journal titles are harvested and included in the DOAJ.
Note
1. Please ask your librarian or library network manager if they have turned on access to SciELO in the library's Discovery Service.
Links Externos
DOAB – <http://www.doabooks.org/>
DOAJ – <http://doaj.org/>
EBSCO – <http://www.ebsco.com/>
Ex-Libris – <http://www.exlibrisgroup.com/>
OCLC – <http://www.oclc.org/>
Proquest – <http://www.proquest.com/>
SciELO Books – <http://books.scielo.org/>
SciELO Brazil – <http://www.scielo.br/>
SciELO Chile – <http://www.scielo.cl/>
SciELO Mexico – <http://www.scielo.mx/>
SciELO Portal – <http://www.scielo.org/>
Como citar este post [ISO 690/2010]:
SCIENTIFIC ELECTRONIC LIBRARY ONLINE. SciELO in the major discovery services [online]. SciELO in Perspective, 2016 [viewed ]. Available from: https://blog.scielo.org/en/2016/04/13/scielo-in-the-major-discovery-services/