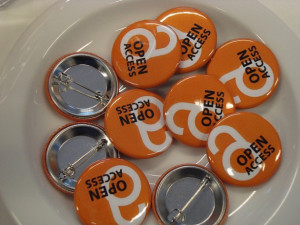 The long-awaited celebration of the 15 years of the existence of the SciELO Program will take place in October. And October is known as Open Access month – and it all started on the 14th of October, 2008 when the first International Open Access Day was celebrated. In the following year, the celebrations were extended to a week, from 19 – 23 October 2009, with the launch of a global social event known as Open Access Week with the objective of connecting the global momentum toward open sharing with the advancement of policy changes at the local level to share documents, news, tools, multimedia (videos and photos), and much more.
Open Access Week states that:
"Open Access" to information – the free, immediate, online access to the results of scholarly research, and the right to use and re-use those results as you need – has the power to transform the way research and scientific inquiry are conducted. It has direct and widespread implications for academia, medicine, science, industry, and for society as a whole.¹
Acting nowadays as a repository for content relating to Open Access, the Open Access Week Web site disseminates materials from all over the world, and we can see there that both the commitment to and support for Open Access from researchers and  academics, professors, students, academic institutes, research funding agencies and the public in general are growing each year.
Since its creation, there have been more than 360 events¹ celebrating Open Access on five continents, from conferences and seminars to workshops and round tables, mostly in the month of October which happens to be Open Access month!
Amongst the various events disseminated, we highlight the 4th Luso-Brazilian Conference in Open Access (CONFOA), held October 6 – 9, 2013 in the auditorium of the Biblioteca Brasiliana (Brasiliana Library) of the University of São Paulo, which brought together researchers, teachers, librarians, administrators, students, professionals and politicians interested in the promotion, greater dissemination and penetration of Open Access, and in connecting these actors and the subject of Open Access in the Lusophone-Brazilian community. We also highlight here the SciELO 15 Years Conference which is being held October 22-25, 2013 in São Paulo, marking 15 years of the SciELO Network and which will bring together authorities and experts in research and scholarly communication with the aim of highlighting and discussing the state of the art in Open Access scholarly communication and the challenges for the development of the academic journals of the SciELO Program. Don't miss it! Have you already registered?
Let's celebrate Open Access!
Some other events in October celebrating Open Access worldwide:
Australia
Publishing the Open Access Way: The Change in Business Thinking Towards Open Access
http://www.rmit.edu.au/library/oaw
Canada
Designing Open Access Policy – University of Ottawa
http://www.issp.uottawa.ca/eng/scienceandsociety.html
The University of Guelph's Open Access Colloquium!
Finland
Open Access! Eteneekö tieteen tulosten avoin saatavuus?
https://wiki.helsinki.fi/display/OAviikko/Open+Access!+22.10.2013
France
Open Access Week Paris 2013
http://www.openaccessweek-mysciencework.com/
Germany
Podiumsdiskussion: Wissenschaft im Wandel – Ist Open Science die Zukunft?
http://openscience.alpine-geckos.at/events/wissenschaft-im-wandel-ist-open-science-die-zukunft/
Italy
Quali politiche per l'accesso aperto in Italia?
http://www.openstarts.units.it/doc/O-A-W.pdf
Japan
Revision of the Degree Regulation and Open Access Dissertation – Celebrating Open Access Week
http://www.tulips.tsukuba.ac.jp/pub/OAW/2013/welcome_en.html
Peru
Semana Internacional del Acceso Abierto en Perú 2013
http://www.openaccessperu.org/
Portugal
Communicating Science: Scientific Publication and its Audience
http://www.comunicarciencia.ubi.pt/conferencia/index.html
Spain
La Red de Bibliotecas Universitarias Españolas (REBIUN)- Open Access Week
Swiss
Open Science: Research Data & Scientific Publishing: Future Developments – University of Zurich
http://www.oai.uzh.ch/en/news/412-open-access-week-2013-open-science-research-data-a-scientific-publishing-future-developments
UK
Open [access, data, source]: science & data in the 21st century
https://epcopen.eventbrite.co.uk/
USA
Introduction to Open Access and Copyright – Virginia Tech
http://www.lib.vt.edu/openaccess/
Two Open Access Week Programs @ City Tech
http://openaccess.commons.gc.cuny.edu/
Turkey
2nd National Open Access Workshop
http://www.acikerisim.org/english/oa2013_program.pdf
See more events:   http://www.openaccessweek.org/events
External links
Open Access Week – http://www.openaccessweek.org
Open Access Week events: http://www.openaccessweek.org/events
4ª CONFOA – http://www.acessoaberto.pt/c/index.php/confoa2013/2013
Conferência SciELO 15 anos – http://www.scielo15.org/
Notes
¹ Open Acccess: redefining impact. About. Open Access Week. [Viewed 08 October 2013]. Available from http://www.openaccessweek.org/page/about.
About Sibele Fausto
Collaborator on the SciELO program, post-graduate in Information Science from the School of Communication and the Arts of the University of São Paulo (PPGCI-ECA-USP), specialist in Health Sciences information at the Federal University of São Paulo in partnership with the Latin American Center for Health Sciences Information (UNIFESP-BIREME-PAHO-WHO), Sibele Fausto is a librarian in the Technical Department of the Integrated Library System of the University of São Paulo (DT-SIBi-USP).
Translated from the original in Portuguese by Nicholas Cop Consulting.
Como citar este post [ISO 690/2010]:
FAUSTO, S. October: Open Access Celebration Month! [online]. SciELO in Perspective, 2013 [viewed ]. Available from: https://blog.scielo.org/en/2013/10/21/october-open-access-celebration-month/